I have used and tested close to 40 different image editors over the years and I can say with great confidence, PhotoScape X is the best package I have ever used. This is my Photoscape X review and let me explain why.
Simply put, PhotoScape does everything I need extremely well, its lightweight, and FREE.
Having been an Adobe and Gimp user in the past I quickly realized I do not need all the complexity that comes with those packages. I tend to only use half of those features 95% of the time. Why pay a monthly fee (in Adobe's case, weigh down my machine and my workflow with such a over taxing package.
I also hate the fact that Photoshop and Lightroom use a custom database which locks in my image changes so I will only be able to use their software going forward. It's like software crack and I rather not limit my options.
What is PhotoScape X?
PhotoScape is a fun, powerful, lightweight, multi platform photo editor software package. It can do most if not all of your photo and image editing tasks all for free. It is created by a company called MOOII TECH from South Korea and was first released in 2008.
There are several versions of PhotoScape available and if you visit their website, you may get a little confused too. Here's what I learned.
PhotoScape-X for Windows 10 v2.x (on the Microsoft app store)
PhotoScape-X for Mac v2.x (available from Mac app store)
PhotoScape for Windows v3.x (Win XP, 7, Vista, or 8)
PhotoScape-X Pro v3.x (Paid version, currently under $40)
The most common and widely available appears to be PhotoScape X version 2.x from the Windows and Apple App stores. I do not understand why their newest version 3.x is only available for older versions of windows and it appears to have newer features available.
I hope that the app store versions will include some of the features ver 3.x soon. The paid versions is worth the extra $40 but I am still using the free one. I do plan to upgrade in the near future. Maybe after the next major update.
So what features am I looking for in a photo editor?
PhotoScape Main Features
Free or very cheap
Quick, easy image resizing and cropping
Photo repair tools
Color balancing and adjustments
Advanced photo editing features
Support for RAW editing
Photo viewing and management
Image cutout or background removal
Image creation like Logos and website image
Changes to the image and not to a Database (like in Photoshop)
Image Tag management, Face recognition and Geo tags
Batch file tools (to change multiple images at one time)
Support for Tethering
Of my list, the only things PhotoScape X cannot do is face recognition and tethering. I have a home photo studio with lots of lights and backdrops. Tethering is connecting your camera directly to the computer and images will quickly display on a monitor for review.
Also, it doesn't do tag management as well as other programs like Windows Photo Gallery.
Other then these 2 missing features, this is an incredible list of features all in a free application. Since it supports Windows and Mac, I can have it installed everywhere and work seamlessly no matter what computer I am on at the moment.
I have to admit the program is not intuitive to use and took me some time to even do basic editing but the publisher does help with a lot of video supported user manuals to make learning quick and easy if you are willing to put in the time. I am glad I did!
Here is a link to the company video help on YouTube.
Before we get started, lets discuss the difference between Photo, an Image, and a Picture.
Photo, Picture, and Image
A Photo is short for Photograph and is a visual representation of someone, something or a scene on a piece of special paper. It is taken by a camera.
A Picture is a visual representation of someone, something, or a scene on any flat surface usually in the form of a painting or drawing.
An Image is a visual representation of someone, something or a scene in forms of 2-D, 3-D, or imagination. It is the general term that can be applied to both a photograph and picture plus a whole lot of other things. It also includes graphic images, logos, and other types of images.
Since images also refer to graphic images like logos, I will tend to use the term to apply more for graphic images and less towards photographs and pictures which are more specific. Please note this difference when reading this article.
PhotoScape X Review
I love this program! This is my default app for all my photo editing (and I am a professional photographer). I also do all my website images and Pinterest pins using this app.
Creating Pinterest pins is incredibly fast and easy and I can create an image in under 3-5 minutes. This includes proper tags and metadata with a compressed size that will not create download issues with my websites.
There are 2 main versions, the free and the pro version. The pro version has a lot of other features and options but all of my core needs were meet with the free one and I didn't need to spend any additional money. Great news for my bank account!
It is important to note the software limitations. This software does not have all the features of Gimp or Photoshop. Those programs are much more intensive, and in my opinion, way more then what most people need.
Most people are probably looking for more than basic features but less then intense complication. If you already have Photoshop or know how to use gimp, then you should continue to use those programs. If you are like me and didn't like when Adobe changed to a monthly fee based app and wanted to break free of propriety software, then you should serious consider PhotoScape.
Core Features
Photo Editing
Most of the editing a photographer does is quick color adjustments and maybe a little touch ups. Photo's look better the less they are manipulated and when dealing with people, the closer to the real person the better.
PhotoScape does these things perfectly and very fast. All I need are a few clicks per image to make adjustments and off to the next shot. If I want to get into cutouts or removing stuff from the background, I just have to add a few more clicks. It really is that fast and easy with PhotoScape.
Things I use regularly are image resizing, adjusting brightness and color, adjusting white balance, backlight correction, frames, cropping, filters, red eye removal, and minor painting. There are a ton of additional features but I tend not to use them often or honestly never.
Graphic Image Editing and Creating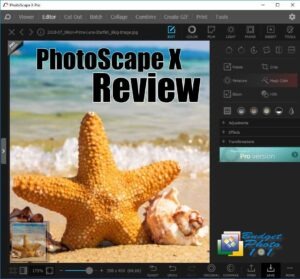 Lately with my blogging and website work, I've been spending a lot of my time creating graphic images with PhotoScape.
This is what I think makes PhotoScape stand far apart from the others. It is a very powerful image editor and has a whole lot of extra features available for this purpose.
I create logo's, Pinterest Pins, banners, and other types of images with this app. All my graphics for all my websites were created with PhotoScape plus hundreds of Pinterest pins. From start to finish, I can create a pin in under 5 minutes and I find it a whole lot easier to use then Canva or other website editors.
Quick Photo Crops, Resizing, and Organization.
Crops and image reductions are also simple with just 3 clicks. I can reduce a full scale image down to 40k with just a little reduction in quality and my website visitors would never know the difference.
Photo management or organization is not as good as MS Photo Gallery but better then nothing. I love sorting by tags which I don't think is a feature of PhotoScape yet but maybe in a future release.
One very surprising feature is the ability to rename or change multiple files at one time. This is a feature I use all the time. When I upload a new batch of photos, I rename them with the date and subject and append them with the original camera name (to make each photo unique). I remember the days when I use to do this manually but hopefully never again.
Advanced Features
Some of the more advanced features like merging images (taking the best faces from several photos and making a new picture with them), removing background distractions, and creating transparent backgrounds are extremely easy with PhotoScape.
I used to do these things with Gimp and would spend 15-20 minutes per image to do what I can now do in under 4 minutes. In the modern age where time is precious, this is a life saver for me.
There are tons of other advanced features and filters and honestly way too much to go through in a review document. Maybe I will create more in depth tutorials of PhotoScape in the future if people tell me so in the comments.
Missing Features
Face Recognition
This is another great MS Photo Gallery feature and the reason I install it on all my computers. I have it scan through my thousands of photos looking for people in them and recommending names to me. Then I just approve the tag and it continues to look for more.
This is not a feature in many packages and I understand why MS and Google are the only ones doing this. This technology is being used to collect a ton of information about us for their databases. If you do tag your photos with this information, remember to remove the metadata before sharing it or risk this information being released to the public.
Since MS no longer supports Photo Gallery I expect I will need to do without this feature in the future but for now I still use it for this main reason.
I do expect PhotoScape to support face recognition in the future as it is partly supported in version 3.7 for older versions of windows today. In version 3., there is a neat feature where it will search the Internet for a face you select in one of your pictures.
Tag management
This is another reason I keep MS Photo Gallery around. It has the ability to manage my image tags extremely well. I hope future versions of PhotoScape will include a more robust tag management tool but until it does, I have Photo Gallery still available.
I am sure there are other programs that can do tag management for me but I like having it all included in the same package as my photo management app.
Conclusion
I cannot recommend PhotoScape X enough and I recommend you give it a try if you are looking for a full featured photo editing package. I know I have recommended MS Photo Gallery in the past and I still do love it but it is no longer supported by MS and we all must move on.
PhotoScape has way more features then MS Photo Gallery did minus 2 I used regularly. It is a great replacement for it and will be able to replace many more advanced packages too.
Give it a try and let me know if you agree with my PhotoScape X review.  Let me know the things you like and dislike with it in the comment section below.  As always, if you want to be informed when I create new articles, please remember to subscribe to my email list and you can be the first to know of new posts.