Do you never carry your DSLR camera because it's just too much to carry?  Would your life be easier if you had several camera's in separate bags with everything you need?  Since buying multiple gear to pack multiple bags is not in our budget, then this convertible camera bag is just what you need.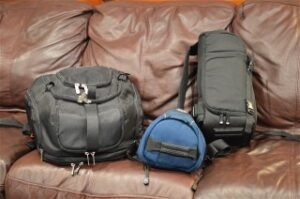 Most people move gear between several camera bags in order to have the smallest bag holding just amount of gear.
I switched between 3 bags all the time. Over time, I got so tired of it, I just stopped carrying my DSLR and just used my iPhone.
I Hate Using my iPhone for Pictures
I discovered a simple way to switch between both a large and small camera bag without moving gear between multiple bags.
The best part about this is you can probably use the gear you have today.
You should not have to spend more money on a special convertible camera bag.
Maintaining 2 camera bags is easier then you think if you follow my simple approach.
The solution is to put a camera holster inside your larger camera bag or backpack!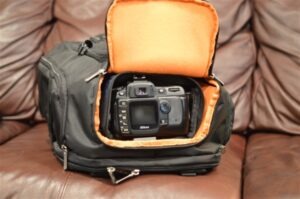 I have a Tamrac 5514 Tamrac Adventure Case inside my Monoprice DSLR Camera/15.6 inch Laptop Backpack – Black. The holster easily fits in the spot where the camera will go.
When I want to just take my DSLR with its basics, I can pull the holster out of the backpack and travel light anytime I need to.
When I need more gear, I put the holster back into the backpack and carry 5 times as much gear without moving anything.
Since the Tamrac 5514 case and backpack are no longer for sale, I recommend these newer models. Both seem to be very close if not exact to the versions I have tested.
The Tamrac 5683 Digital Zoom 3 Camera Bag in black and the Evecase DSLR Camera Backpack.
I also move my holster to a sling bag on days I want more then a holster but less than a backpack.
I tested my setup with the Amazon Sling Backpack for SLR cameras and I love it.
What's in my holster?
Nikon D3200 with a 18-210 zoom lens strap
Nikon SB400 flash with a diffuser
Extra battery and SD cards
Cleaning cloth
Flash cable for using the flash off camera as needed
For days when I need more gear, I keep the holster in the backpack (with the holster opened).
I can easily get to the camera and required gear along with all my other stuff (flashes, remotes, filters, cords, light modifiers, batteries, cleaning gear, etc).
The key to this setup is to not over-pack your holster.
Small is the magic word here. If your holster gets too big, then it will not fit into your backpack and the whole idea falls apart.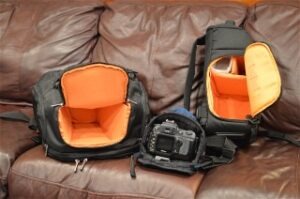 I also can move my holster from my backpack to a sling bag.
Some days I want to carry my remote flashes and triggers and this fits perfectly in the Amazon sling bag (check out my review of it here).
The issue here is I cannot triple stack my bags with the bags I currently have so I do need to move gear when I want to use the sling.
In this case, I just bought a second holster for my backup camera (Nikon D50) and I keep that in the sling and I just need to move one of my Neewer 750ii (Full Review Here). Not too bad.
Since these flashes are so nice and cheap, I do plan to buy extra ones for the sling in the future. In the meantime, I will just order a small bag for my flash and triggers and move it between my 3 cases.
I hope you can adapt this DIY convertible camera bag idea to your needs.  If you come up with something new, let me know if the comments below.  Sharing is the best way to make each of us better photographers.  As I adopt my bag options, I will be sure to add something to this post in the future.